discover one of Skipton's best kept secrets!
ICING ON THE CAKE FOR HIGH CORN MILL'S FESTIVE FUNDRAISER
Posted on April 11 2022, By: Steven Sherlock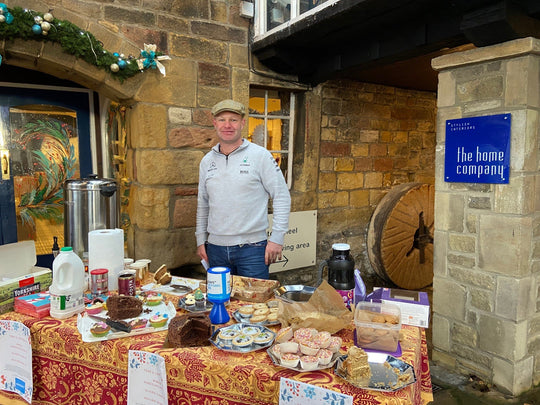 A charity cake bake at Skipton's High Corn Mill raised more than £3,700 – thanks to a generous donation by a widow who spotted the event was being held in aid of Parkinson's UK, in the Craven Herald.
Elaine Turner from Lower West Avenue, Barnoldswick lost her husband Wallace to Parkinsons in February 2021. He had suffered with the disease for more than 18 years – but thanks to Parkinson's UK, the couple were treated to fortnightly drinks and cakes and a taxi to a café in Nelson for six months.
Said Elaine: "It meant such a lot to us – as did the care Wallace received at St Andrew's House nursing home in Barnoldswick and also the staff at Airedale Hospital.
"When I read in the Craven Herald that there was to be a cake bake in aid of Parkinson's UK it seemed like the perfect opportunity to give back to a charity that did so much for us."
Elaine went along to the cake bake at High Corn Mill on December 9 and presented mill owner Andrew Mear with a cheque for £3,500 for the charity.
Said Andrew: "The donation came completely out of the blue. Elaine had read about our charity cake bake and came along especially to hand over the cheque. After all she had been through with her husband, she wanted to make the extremely generous donation to help other sufferers of the disease in the future. We were very touched and extremely grateful for the gesture."
In total the event, held in the courtyard at High Corn Mill, raised £3,705, all of which has been passed on to Parkinson's UK.
Dating back to the 12th Century, High Corn Mill, has adapted through the years to provide Skipton residents and businesses with a hub of history and lifestyle choices. With an array of retail outlets and office units, its peaceful, convenient location in the heart of the town has always had sustainability at its core.