discover one of Skipton's best kept secrets!
SEBASTIAN SIGNS UP FOR SKIPPY
Posted on January 30 2023, By: Michelle Topham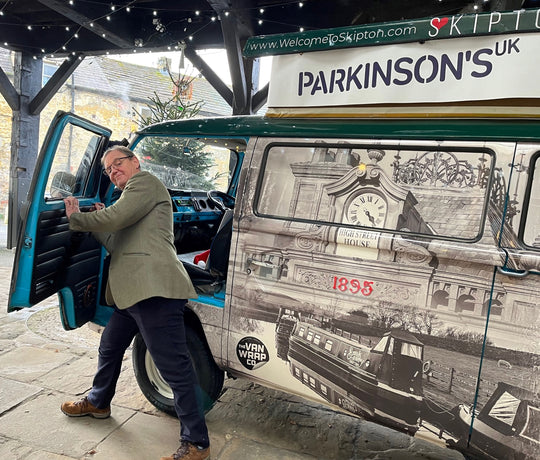 Skippy, the iconic VW camper van promoting the town's historic landmarks, has taken another step along the road to celebrity.
 The restored 1978 camper van, which belongs to High Corn Mill owner Andrew Mear, is set to get the 'star treatment' from local folk of note invited to sign their name within the van's interior.Leading the 'Sign Up to Skippy' campaign was the Keeper of Skipton Castle, Sebastian Fattorini who was the first to provide his autograph across the passenger door. He said: "Andrew and I have long worked together for the good of the town and the camper van has become quite an ambassador for Skipton in recent years. I know Andrew also hopes to use it to raise the profile of Parkinson's UK which has affected both of our families and why I agreed to sign the van. We hope it will be the first of many autographs from 'people who matter' from the Skipton area."
 Said Andrew: "The idea is that we'll ask special people to step forward and sign inside the van: it might be someone who grew up in the town and has become well known; someone who has personally done a lot for the town; or someone who, for other reasons, really deserves to have their signature featured inside the van."
 If you know of someone who deserves to be nominated for a future 'Sign Up for Skippy' photograph, email info@highcornmill.co.uk and tell us, in no more than 100 words, why you think they should be considered.