discover one of Skipton's best kept secrets!
ELLER BECK HOLIDAY LET , HIGH CORN MILL, SKIPTON
Posted on July 12 2023, By: Andrew Mear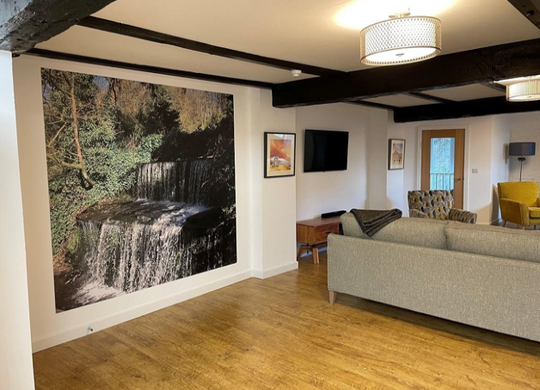 A MEDIEVAL water mill has opened a luxury holiday let that showcases the ancient building's history - and pays tribute to local art and style.
The Beck, at Skipton's High Corn Mill, is a four-bed, three-bathroom, first floor holiday flat which sleeps up to ten and follows a custom conversion of former office space within the ancient mill.
Owner Andrew Mear was determined to showcase local history, art and style within the recently completed apartment which features the work of window artist Jenny Tribillon in the spacious entrance area alongside part of the inner workings of the iconic mill wheel.
A large welcoming panel with an early sketch of the entrance arch to neighbouring Skipton castle details some of the history of the building, the roots of which stretch back to the 12th Century. The lounge area features a large-scale graphic of a small waterfall from the mill dam, visible from the towpath bay the castle.
There is also a collage of images documenting the visit to High Corn Mill in 1988 of King Charles III. Gold footprints on the floor allow guests to stand exactly where the man who would be King once stood.
Says Andrew: "This is all part of the proud history of the mill and we sincerely hope King Charles may return to see what has changed in 35 years."
Read the article here in the Telegraph and Argus 11th July 2023